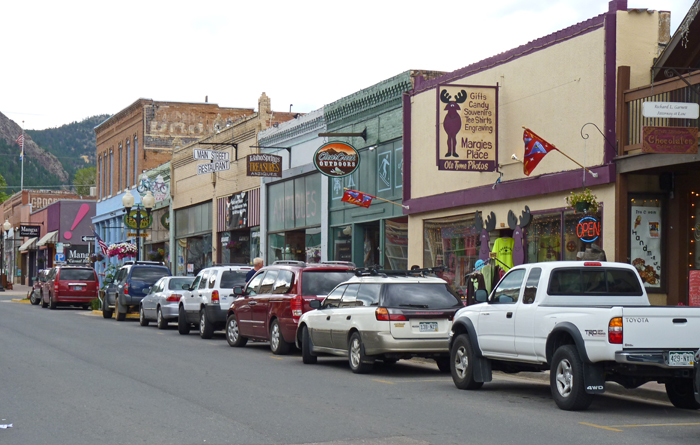 Idaho Springs is a small, historical town located just 30 minutes west of booming Denver. This charming town is home to activities for people of all interests.  There are outdoor activities, historical mine tours, fun restaurants, great local booze and quirky locals.  In between all the fun activities that are available, there are also some unique shops that are definitely worth a browse.
The Soap Shop
This cute little shop has 100% organic products with all different kinds of smells.  The soaps are also made out of all different materials, making them a fairly unique find. Give the Anise soap a try – it is guaranteed to get the "human smell" off of you after any kind of activity!
Wild Grape
This cute little shop can be best described as "crafty kitsch". Keep an eye on the clock, as this is a store that you can easily lose yourself in for hours. With all kinds of merchandise, from jewelry to cards, to candles and wineglasses, you can find tons of unique gift items for yourself and all your friends and family.
South By Southwest Thrifty Décor
This is the best place to go to find affordable used items. It is a secondhand shop, but this makes the appeal even stronger. With one-of-a-kind items and constantly changing merchandise, a person will always find something fun and a little different in this shop.
Gypsum Rose Minerals and Fossils
Whether you are a gem collecting connossoir or simply a novice, this is a store that will make you awestruck. It is definitely more of a 'curiosity shop', but this store will draw you in with the reasonable prices and the entertaining owner. A person can find some very unique gems and rocks, as well as incredible jewelry pieces.
Clear Creek Outdoors
For fly fishers of all experiences, this is a shop you won't want to miss! The staff is friendly and knowledgeable and will not only help you find the right hook, but will also direct you to the best streams and rivers in the area for your fly fishing needs. You can also find gear for all of your outdoor activities in the winter and summer seasons.
If you're going to be in the area, make a stop by Colorado Zipline's Idaho Springs outpost for a little rafting or ziplining! There is also a small shop at the outpost where you can find all kinds of fun and unique apparel, as well as some necessities for you outdoor experiences.