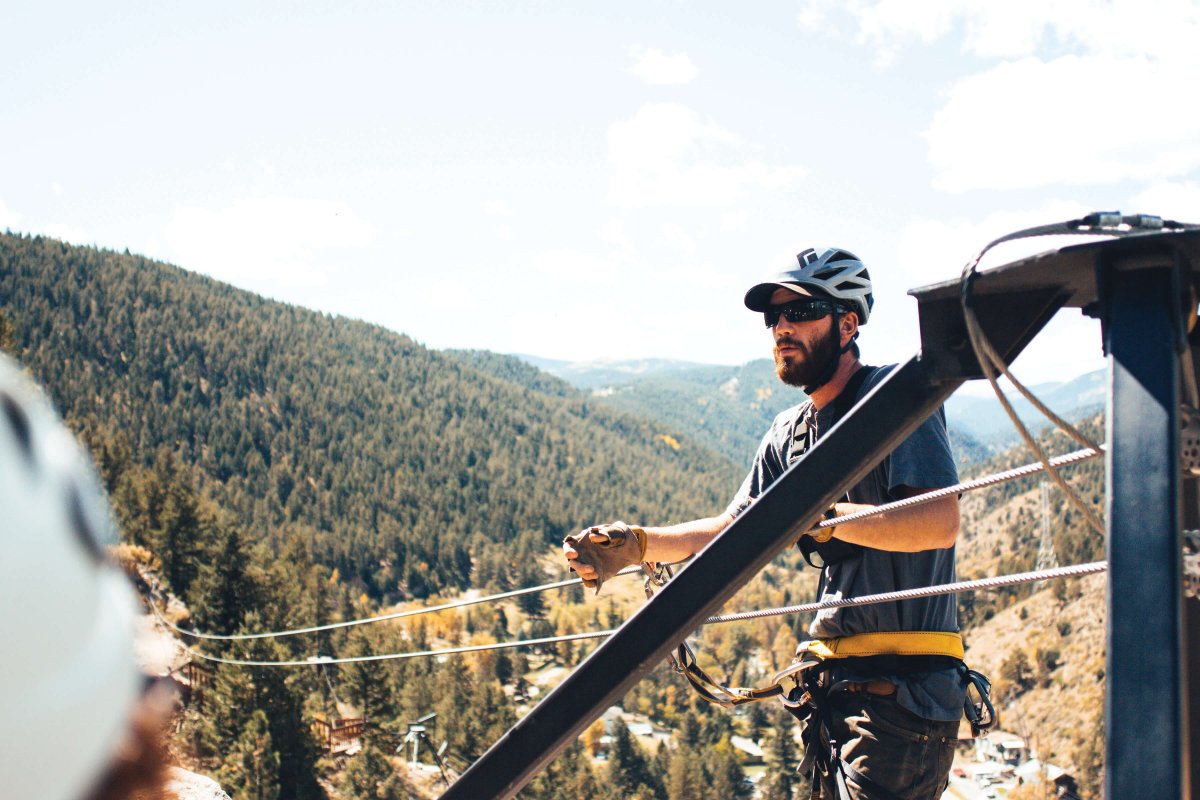 This gorgeous front range city is the central mecca to all types of exciting outdoor activities for you and your family, therefore making Denver a perfect vacation destination for those who strive for an equal balance of city life as well as adventure.
AVA
 Mountaintop Zipline Tour
How could we miss this popular aerial excursion just 40 minutes west of the Denver area? Between whitewater rafting, a Via Ferrata, and plenty of other adventures across the state of Colorado, AVA Rafting & Zipline is great for all ages and skill levels.  Since we could go on forever about all the outdoor adventures here, we'll just keep it at the Cliffside Zipline.
Situated on the cliffside above Idaho Springs, the oldest gold mining town in America, is AVA's 6-line course.  You'll catch some incredible views of the Continental Divide as you soar among the Colorado mountaintops.  When you get done soaring through the trees, you will be able to indulge in a little piece of western beauty that only the Centennial State has to offer. 
Red Rocks Amphitheater
Along with Civic Center Park, Red Rocks is one of two Denver National Historic Landmarks. Once listed as one of the wonders of the geological world and providing acoustic reverberation to transcend you into an audial bliss, Red Rocks is a must do outdoor event unique to the Denver area. It sits in a little town outside of Denver called Morrison, CO. Playing Red Rocks as an artist is a dream of many. Widespread Panic holds the record for most shows played at Red Rocks, while it is the only venue that The Beatles' that didn't sell out of their first American tour. Red Rocks is one of four venues that the Beatles visited on that tour that still stands. Red Rocks is an amazing hiking and biking destination during the day with a trail that runs about 1.4 miles taking you through its natural meadow and rock formations. It will stay standing through the test of time, a truly surreal experience for anyone and everyone.  Check out their schedule to listen to your favorite band during your visit, or head to the amphitheater for some yoga on the rocks.
The Beautiful Estes Park
About 2 hours north of Denver lies an almost hidden gem that is the gateway to Rocky Mountain National Park. The little town of Estes Park is a classic mountain town and a beautiful destination that will keep you coming back for years to come. Take a ride up Trail Ridge Road – one of the highest paved roads in America. Walk around Lake Estes or rent a kayak and wade in the water. Hike up Gem Lake and take a moment to smell the flowers. Ride your bike down the river walk and take a ghost tour at the infamous Stanley Hotel, where Stephen King based his classic novel "The Shining" on. Shack up in a cabin a the YMCA resort and make friends with the hundreds of elk that call Estes home. This is the place to be if you need to get away from it all. 
Plan your perfect trip to Denver, Colorado this year and don't forget to call AVA to set your group up with an epic adventure.