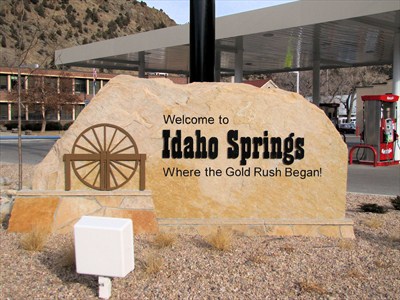 When planning your next Arkansas Valley Adventures vacation, consider this brief history of the beautiful mountain town of Idaho Springs. With activities such as whitewater rafting, ziplining, ATVing, and train rides, knowledge of the area can make these experiences all the more enjoyable. Just 30 miles west of big city Denver, Idaho Springs offers a fascinating history with little necessary travel.
Founded in 1859 during the Pike's Peak Gold Rush, Idaho Springs quickly became the primary district for the region's mining. George A Jackson first discovered gold where Chicago Creek empties into Clear Creek. This location is visible on AVA's popular whitewater rafting trip entitled "Gold Rush." Jackson was drawn to Idaho Springs by the layer of steam he noticed floating through the air. These natural hot springs would later gain popularity as "Indian Hot Springs." Jackson managed to keep his secret of both the gold and hot springs for several months, but word soon escaped and miners from all over the country soon made their way to the small town. In 1871, plans to create a railroad to help transport the millions of dollars of gold out of the area were drawn up.  This railroad would later be named "The Georgetown Loop Railroad" and still offers tourists scenic rides through the town of Georgetown. Other historic remnants of the gold rush still visible to tourists include The Charlie Taylor Waterwheel, City Hall, The Argo Gold Mine, Blue Ribbon Tunnel, and several abandoned mine shafts. Most of these sites are visible throughout the Clear Creek Canyon which is accessible by kayak or raft.
Interested in learning more about these historic sites or viewing them up close and personal? Schedule a whitewater adventure on Clear Creek or scenic Georgetown train ride with Arkansas Valley Adventures today. Arkansas Valley Adventures (AVA) also offers ziplining and ATV tours in the area which allow for great views of the historical mining community. AVA guides are knowledgeable of the area and are well versed in acknowledging points of interests along the way. An agent at AVA can help you pick out a trip suitable for the whole family. Reach out today by calling 877-RAFTING or visit the Arkansas Valley Adventures' website at coloradorafting.net.