Humans have always had an innate question. What does a bird see as they glide effortlessly through the air? With ziplining at Arkansas Valley Adventures (AVA), we traverse the natural topography of the landscape with seven lines of ziplining on our course. Being suspended over a hundred feet from the ground gives you a unique view of the surrounding mountains and the various colors that present themselves during the Autumnal foliage transition. The Colorado aerial adventures with AVA include some spectacular views of the rocky mountains East of the Continental Divide, where the cliffside and the Mount Evans Via Ferrata are located. If you're looking for a new perspective on the Fall foliage here's insight on what to expect while on an aerial course and how to be prepared when visiting Colorado.
Your Drive from the Front Range
The first thing you'll notice on your drive is the breath-taking views. Every mile you inch closer to the mountains on I-70 the landscape transitions dramatically from rolling hills, moonlike buttes and mesas, to winding roads that lead you into a quaint 19th century mining town called Idaho Springs. It's nestled between Denver and the Continental Divide at the Eisenhower and Johnson Tunnels with seemingly endless mountains in every direction.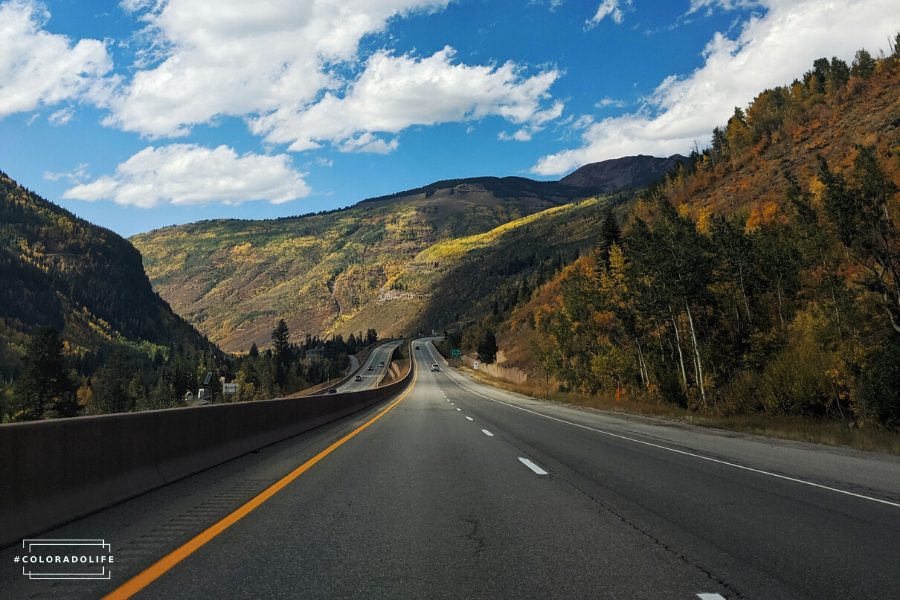 Photo Courtesy of hashtagcoloradolife.com
The Autumnal Foliage Pilgrimage
With the autumnal solstice just around the corner a new wave of tourists and native Coloradoans flock to the Continental divide to watch the leaf-bearing trees make their ultimate transition into their vibrant oranges and golden colors. As temperatures cool, the local fauna prepare the transition into their winter state. It's a beautiful sight made even more spectacular with views from above and the added excitement naturally offered by ziplines. 

Photo Courtesy of colorado.com
Visit History
Idaho Springs, Colorado holds historical importance during the mining era. This old-fashioned mountain town was the epicenter of the mining industry from the mid nineteenth century producing gold, silver, and other semi precious materials. After your scenic zipline tour you can head just two-minutes away into downtown Idaho Springs where there are numerous restaurants and gift stores found in buildings still much like they were when the town first boomed. After you've finished eating some delicious Colorado style pizza and stopped at the beautiful Bridal Veil Falls, you have only a short 30 minute drive back into Denver.

Photo Courtesy of csumarketingassociation.com
What to Expect on Your Zipline Adventure?
On our Mount Evans Via Ferrata and Cliffside Zipline course safety is our number one priority. Before your adventure begins all of our guides will teach you how to properly slow yourself down using hand brakes. You'll soar across 6 ziplines totaling 2,360ft and reach speeds of up to 50mph. Aside from the amazing views and thrilling ziplines you'll find other fun activities such as Surf Zip and Bridge of Doom. On "Surf Zip" you are surfing/skateboarding through the air, still securely attached to the line; whereas on the Bridge of Doom you are looking at a suspension bridge scenario.
Being Prepared for Fall in Colorado
Weather is always unexpected, so bring extra clothes and clothes that are made of synthetic material.



Altitude sickness

– hydrate before and during your stay in Colorado and rest.  (Don't do any strenuous activity for the next 24hrs after you land)

Add 15 extra minutes- Denver is an old town and always add 15 minutes longer to your trip time due to construction/traffic.

Having fun is always the best way to enjoy your time in Colorado.
There are numerous ways to enjoy the scenic landscape that Colorado has to offer. Try seeing this through the eyes of a bird with an Aerial Adventure with AVA online or call us at 9704237031.