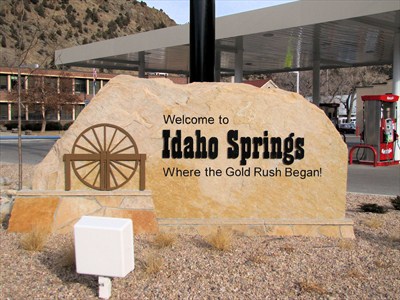 Spend a day experiencing the Colorado Rockies with fall hiking just outside of Denver. Read to find out more about top 10 fall hikes near Idaho Springs.
St. Mary's Glacier is a quick 1.5 round trip with breathtaking panoramic views with snow above the lake year-round. The best time to experience this trip is late spring to early fall. Locals desperate for snow hike up with their equipment to earn a few turns down the glacier.
Trading Post Loop Trail starting at Red Rocks is roughly a 1.4 mile loop open year round. This popular trail begins at the famous Red Rocks Park and Amphitheater circling around 10 of the parks giant red rock formations.
Deer Canyon Loop is an escape from Denver for a quick 2.7 mile loop hike with the combination of two trails. Start off on the Meadowlark Trail (1.6 miles) and take a left once you reach the Plymouth Creek Trail junction (1.1 miles) back to the trailhead. This relatively easy hike with gentle slopes allows leashed dogs and is perfect for children and older outdoor enthusiasts.
North Table Mountain overlooks the quaint town of Golden, Colorado. This 2.7 to 7.7 round trip hike offers several all year round trails varying in length for hikers and mountain bikers. On a time constraint? Take the dogs and children for some fresh air on this quick hike close to Idaho Springs.
Mt. Bierstadt is a great place for viewing aspens turning into beautiful fall colors. The Mt. Bierstadt Hike at Guanella Pass varies from 1 to 7 miles roundtrip and is best during late spring to fall. This 14er is located near Georgetown, Colorado with difficulty ranging from easy to difficult.
Waterton Canyon located along South Platte River with the final destination to Strontia Springs Dam with a round trip distance of 12.4 miles. This hike, bike, and fish area is open all year round, but sadly the four legged friends must stay at home. You can spy some Bighorn Sheep or catch large eagles soaring over the rocks.
Chicago Lakes Hike is located near Mt. Evans beginning at Echo Lake for this 12 mile roundtrip hike. You'll experience the high country wilderness of Mt. Evans and Colorado's scenery stretching for miles for the eye to see.
Horseshoe Trail in Golden Gate Canyon State Park located near Golden, CO. Rated medium on the difficulty scale, this 3.6 round trip hike is great for experienced and non-experienced hikers with scenic views along the trail.
Chimney Gulch is for hikers looking for a challenge with views at the top well worth the workout. The round trip is 5 miles long with people biking, hiking, and trail running all year round. This dog friendly place is located in Windy Saddle Park. The best adjective to characterize this hike is STEEP! Get out your hiking shoes.
Clear Creek Trail in Golden, Colorado is a great place to bring the kids, grandparents, and those looking for a casual walk! There are plenty of parks, shops, and people watching around this business district in Golden. Bring the picnic to enjoy for a family reunion or just a spontaneous weekend.
Get outside this fall and go take an adventure in Colorado's beautiful playground! There are hikes from easy to difficult for all types of experiences.