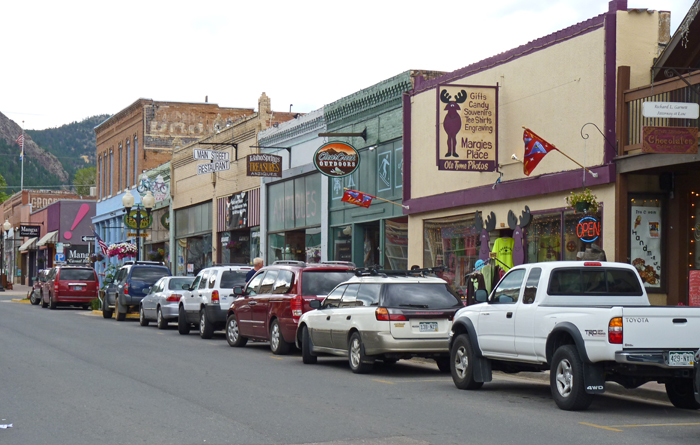 Tucked away in beautiful Clear Creek county, Idaho Springs is a small town offering tons of Colorado charm. Packed with history, Idaho Springs is well-known as one the state's first mining towns. This town is the perfect place to make a pit stop on your way through the mountains, but it's also a great place to go spend a day (or a few). With great activities for people of all ages, this charming town can give you some of the best 24 hours ever! Here are some suggestions for spending the day in Idaho Springs.
Kick off your day in Idaho Springs with a delicious cuppa joe from The Frothy Cup, or head to the Main Street Restaurant for a full-service hot breakfast. Give the Lobster Benedict a try, and top it off with a delicious Bloody Mary if you're feeling adventurous! If you are going to power through a full day of adventures it's important to get a hearty breakfast.
Next, head on over to The Phoenix Gold Mine, an actual working mine, is a great way to learn more about modern and historical mining techniques. To try your own hand at mining, the Argo Gold mine lets you give a go at gold panning.
After adventures in mining, it's time for an unforgettable outdoor experience with AVA Rafting & Colorado Zipline. Grab a sub from Two Brothers Deli and head to the Clear Creek Outpost. Colorado Zipline boasts the best zipline tour in the Rocky Mountains right here in Idaho Springs! Package it up with a 1/3 or 1/2 day rafting, with trips for beginners and up to class 4 and 5 rapids.
By this time you may be a bit worn out. Take a relaxing dip in the Indian Hot Springs to loosen those muscles in a tropical paradise found in a mountain environment. The natural pools and caves reach temperatures of 115 degrees (but average between 90-100 degrees). This spa also offers massages and mud baths as well as lodging.
When you start getting that grumble for dinner, head to Beau Jo's pizza for some of the best pies in Colorado! Beau Jo's is located on Miner Street in downtown Idaho Springs. It is well-known for using honey to sweeten its crust. Beau Jo's offers many different healthy options and also has options for the "dietary challenged". It is a local favorite with a fun backstory; a fur trapper came to Colorado during the gold rush and he decided to start making his world famous pizza. He carved the recipe on the back of a turtle shell but, alas, the turtle walked off and the secret recipe was lost! Over 100 years later someone found this turtle with the recipe and opened Beau Jo's right in downtown Idaho Springs.
Another fun place just down the road from Beau Jo's is Tommyknocker Brewery and Pub. Tommyknocker has won over 100 medals and has a full menu of award-winning ales and lagers. They also offers a unique take on the traditional hamburger by allowing a substitution of elk, duck, lamb and buffalo instead of traditional beef. Tommyknocker has tons of traditional bar foods to snack on such as nachos, chicken wings, onion rings and chicken tenders. If you're looking for non-alcoholic libations, Tommyknocker also has hand-crafted sodas.
When you're done with the day and ready to catch some zzzs, head to AirBnB (this is our favorite in Idaho Springs!) for some charming local accommodations, or head to the Miners Pick Bed and Breakfast.
For a day of fun outside of Denver, Idaho Springs can definitely offer up a day packed with learning, adventure, history and tons of local flavor. For questions about things to do in Idaho Springs, or to book your zipline and/or rafting adventure, give us a call at 855-947-7464.