One of the best places to stay safe from COVID is the great outdoors. Getting outside allows you to breath fresh air and have plenty of space from others. If you are looking for the best COVID safe activities to do in Colorado, this spring, we have you covered! Below is a list of our top four activities that will keep you and your family safe.
1. Fly Fishing
Fly fishing is an outdoor activity that is better with the fewer people involved. The quieter you are, the better the fishing will be. If there are other anglers around, they should be at least 100 feet away from you. The purpose of the distance is to ensure you are not fishing the same hole and to give you enough room to properly cast.
Colorado is one of the best states to fly fish in! We have endless rivers and lakes you can try your luck at. Below is a list of the best places to fly fish in Colorado.
South Platte River: This river runs from the northeastern corner of Colorado to the center of the state through Denver. If you decide to go fishing on the South Platte, the Eleven Mile Canyon is known to have plenty of fish to catch.
Blue River: The Blue River just below Lake Dillon's Dam is an angler's dream! Mysis shrimp grow in large numbers in the reservoir making it a fish's dream. The shrimp cause the fish to grow to massive lengths. You will often see trout over 24-inches in this section of water.
Colorado River: If you are looking to escape the hustle and bustle, fly fishing on the Colorado River is the place for you. There are even guided tours out of Kremmling perfect for beginners wanting to learn how to cast or experts looking for the secret holes.
2. Hike a 14'er
Colorado has 58 mountains that stand taller than 14,000 above sea level. For many, making it to the summit of one is a bucket list item. Some of the most famous 14'ers in Colorado are Mount Elbert, Pikes Peak, Mount Bierstadt and Quandary Peak. To avoid crowds, we recommend exploring some of the less known mountains.
There are a few things you need to know before tackling one of these monsters. This is NOT an average hike. The trails are very challenging and require preparation. Here is our know-before you go, 14'er edition.
Check the weather: When hiking a 14'er, you will be above tree line. This puts you in an extremely vulnerable position with no options for cover if a storm rolls in.
Leave Early: Leaving early is an absolute must. Colorado is known for it's afternoon storms and like I mentioned earlier, you will have zero coverage making for a dangerous situation. The tops of 14'ers are cold even in the heat of summer. Leaving early ensures that you will be traveling through the cooler parts of the mountain in the heat of the day.
Food & Water: We highly recommend bringing more than you think you will need. Hiking 14'ers is extremely strenuous on your body. You will absolutely need fuel and hydration on during your travels.
Extra Clothing: Just like food and water, you should bring more clothing than you think you will need. Colorado is notorious for sudden weather changes and it is best to be prepared for any type of weather. A snowstorm in the middle of July may occur and you should be ready for it!
Prepare for the Altitude: Doing anything physical above 10,000 feet is challenging. We recommend training for a 14'er by doing other high elevation hikes. This will prepare your lungs and get you used to the high altitude. If you do start to feel sick, take a break, drink some water and breath.
3. Ziplining
Ziplining is an exciting outdoor activity that will give you a new perspective of the area. Feel the wind through your hair with beautiful 360-degree views. Springtime is the perfect time to go ziplining because of the cool refreshing mountain temperatures. There is no better way to beat the front-range heat!
We offer two unique ziplines in two special places in Colorado. In Granite, Colorado, we have our Mountaintop Zipline and in Idaho Springs, we have our Cliffside Zipline.
Mountaintop Zipline: This zipline grants you amazing views of the Arkansas Valley. You will be able to see the Collegiate Peaks, wildlife, and the Arkansas River all from our 44-acre course!
Cliffside Zipline: Our Cliffside Zipline is exactly that. A zipline on a cliffside! You will start off with a small hike and finish by flying over Chicago Creek. Our Idaho springs outpost is only 30-minutes from Denver making it the perfect day-trip activity.
4. Rafting
No matter your level or experience, Colorado will have a river you can raft! There are around 18 rivers to explore ranging from Class I to Class V. Class I-II are the easiest waters to navigate and Class V are the hardest. If you do not feel comfortable taking on the water by yourself, we offer guided tours.
At our Idaho Springs and Granite outposts, we have a whitewater rafting trip for everyone! We will break down our top three favorite trips starting off with the most mellow and finishing off with our most advanced trip.
Gold Rush: This rafting trip takes place on Clear Creek in Idaho Springs and is Class III. The minimum age for this trip is 6 years old making this a perfect trip for the whole family. If you are looking for a full day of adventure, you can pair this with the Cliffside Zipline!
Browns Canyon Half Day: The Browns Canyon in the Arkansas Valley offers a unique rafting experience taking you through a national monument with views of the Collegiate peaks and a plethora of wildlife. Browns Canyon is Class III whitewater and requires guests to be at least 7 years old.
The Numbers: This trip departs from our Granite outpost and is the more extreme whitewater rafting trip we offer. The Numbers section of the Arkansas River is rated Class III to V, has a minimum age requirement of 15 years old and requires you to be physically fit.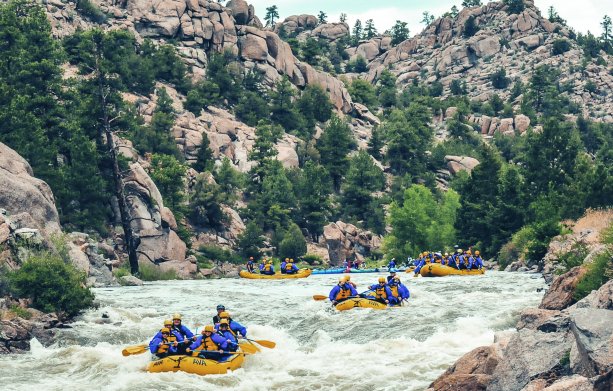 5. Travel with a Campervan
Colorado Campervan rentals are great for escaping the city and exploring with just the family and friends around. In Colorado alone there are four national parks you can visit and stay at, but the benefit of having a campervan is that you can go even further and venture into Utah, Wyoming, and New Mexico.
Here's a short list of the best places you can visit in your Colorado Campervan:
Rocky Mountain National Park, Colorado: Just over an hour's drive from Denver, the Rocky Mountain National Park covers 415 miles of incredible wilderness. Over 100 of the peaks here soar over 11,000 feet! Take the Trail Ridge Road over 4,000 feet up for beautiful views of the park.
Mesa Verde National Park, Colorado: Visit the ancestral lands of the Pueblo people as they left it in 1300 A.D.. Here you'll find dwelling built directly into the cliffs, including the Cliff Palace with 150 rooms!
Great Sand Dunes National Park, Colorado: Take your family and friends to visit sand dunes that reach up to 750 feet tall! Bring a board for some sand surfing and plenty of sunscreen to fight off the strong sun reflecting from the sand.